MitID Good habits
MitID is transparent so you always can see what you are doing and where you are doing it.
Here are some simple habits that will make it easy for you:
Be certain that you enter your information in MitID
Make it a habit to check the website's address in the address bar. Using MitID, it is easy to see, where
you type in an URL-address in your browser:
Look at the top of the page to confirm that you are in MitID.
The URL must always end on "mitid.dk" as in borger.mitid.dk or mybank.mitid.dk.
If you check this way, it will prohibit you from logging on to a fraudulent webpage.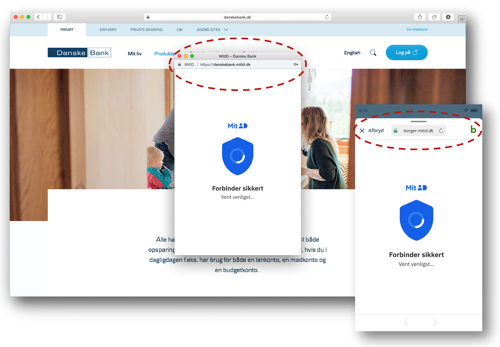 Be certain that you approve the intended transaction
Before you approve any transaction using MitID, as in logging on, transferring money, etc., you will be asked to approve a specific action with the following elements being presented:
Where you about to log on, like borger.dk.
What you are about to do, like transferring money on yourbank.dk.
If the text does not reflect what you want or intend, then STOP immediately and contact MitID support.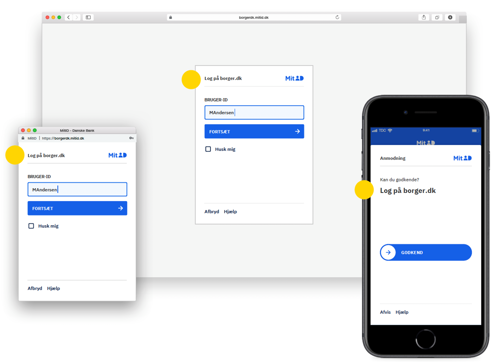 Get notified, if MitID is encountering critical incidents
MitID will notify you, if MitID encounters a critical incident. A critical incident could be that your password is being changed or that you MitID is being blocked.
When you create your personal MitID, you must choose how you want to be notified. Do you want to be notified by SMS, e-mail or through the MitID app? It is important to select two ways of being notified, should you lose your smartphone or another device.
You can always change the notification types later, should a new situation occur. All it requires is that you are logged on to MitID.dk